Welcome to the website of the Digital Geographies Research Group (DGRG).
We are an academic research group of the Royal Geographical Society with the Institute of British Geographers (RGS-IBG).
Digital technologies are changing the life worlds we research as well as the very way we ourselves undertake research and teaching. Therefore this group seeks to be a welcoming forum to discuss these changes for geographers from different epistemic and methodological traditions, and for those conducting theoretical as well as applied research work. The DGRG is a platform for exchanges within and between sub-disciplines, engaging with the diversity of geographies of and through the digital, and thereby nurtures and deepens discussion of geographical digital scholarship and practice.
Our 2022 Annual General Meeting will be held during the RGS-IBG Annual International Conference. The conference will be chaired by Professor Rachel Pain of Newcastle University, on the theme Geographies beyond recovery. It will take place at Newcastle University, from Tuesday 30 August to Friday 2 September 2022, with a strong in-person element, and with hybrid and online ways to participate.
Our AGM is the point of the year when the committee reports to the membership and we all reflect on what has been achieved in the last year, plan the next year, and hear new suggestions for how the group is run and what it can do. We also elect committee members for open positions, and farewell previous committee members who are leaving. All ideas and suggestions are very welcome. We will provide further details about the AGM closer to the time.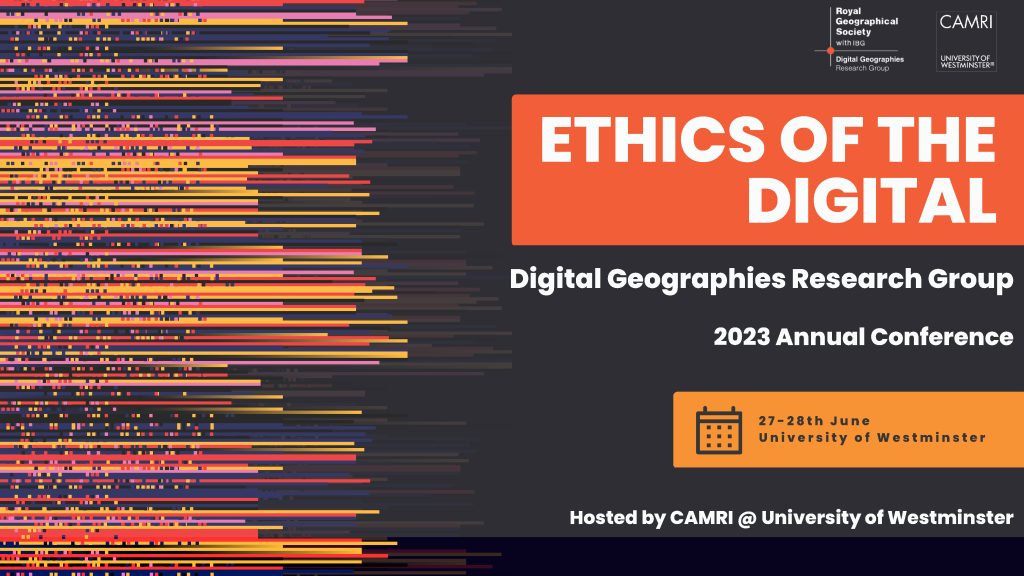 The Ethics of the Digital Conference features keynotes from researcher, BBC broadcaster, and author of  Technology Is Not Neutral: A Short Guide to Technology Ethics, Stephanie Hare. The Open Data Institute will run workshops on Data Ethics and Assessing Risk when Sharing Data. The event will host the launch of 'A Research Agenda for Digital Geographies' edited by Tess Osborne and Phil Jones. We also have over 25 papers, roundtables, and interactive sessions.
Registration
Please register for this event using the following link: https://store.westminster.ac.uk/product-catalogue/media-arts-and-design/digital-geographies-conference/digital-geographies-conference 
Congratulations to our 2022 Dissertation prize winner Shefali Sharma-Patel!
The Digital Geographies Research Group is delighted to announce that this year's winner of the UG Dissertation Prize is Shefali Sharma-Patel of the University of Edinburgh. Shefali's thesis entitled 'Resisting the Indian Smart City in times of COVID-19: Evaluating two civic technological projects'was highly commended by the judging panel how it combined urban governance, disease management and digital geographies.
Keep an out on our dissertation prize page for future announcements, including the 2023 submission call.
Our latest Work in Progress video series is up now – Eurovision fandom, working from home privacy, place and location, and more! View on our Youtube channel
Watch the Youtube playlist from the  2021 Annual @digital_RGS Symposium – starting with the keynote from Peta Mitchell!